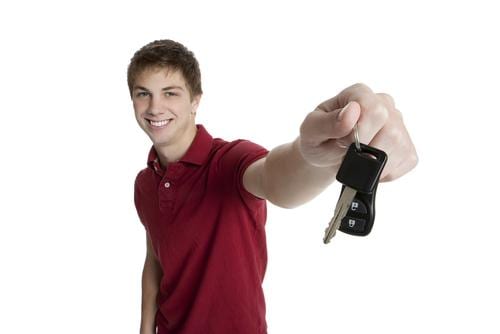 If you're a teen under the age of 18 years old and you're seeking a driver's license, you need to know that Nevada law requires you to take a 30-hour driver's education course before you are eligible to obtain a full Nevada driver's license. Understand that this requirement is in addition to the required written test need for your instruction permit, 50 hours of supervised driving experience and, of course, the driving skills test. The purpose of this article is to explain the Las Vegas drivers ed requirement and what you should expect when taking such a course.
The first thing to know is that there are two methods of which you can fill the Las Vegas drivers ed requirement. One method is to take the 30-hour course in a traditional classroom setting. This can be in a high school or through a Las vegas driving school that is licensed by the Nevada DMV. In the past, nearly all high schools in Las Vegas offered driver's ed as an elective. Unfortunately, however, due to severe budget cuts over the past few years, many schools have eliminated driver's education from their curriculum.
The god news is that if you are seeking to attend driver's ed in Las Vegas in a classroom setting, there are still a couple licensed driving schools that offer the course. The bad news is that these classroom courses outside of high school are somewhat inconvenient. Typically, these courses require the student to attend two Saturdays and two Sundays in a row for 7 1/2 hours each day. That's two weekends that you will have to spend in a classroom. The other downfall of taking Las Vegas driver's ed at a driving school is the cost. Unlike online classes, which are very inexpensive, a classroom course will cost $100 or more!
At our Las Vegas driving school, we have been approved by the Nevada DMV to offer the required 30-hour driver's ed course completely online. This means your required 30-hours drivers ed can be taken on any device with internet access. This includes desktop computer, laptop computer, tablet (ipad, etc) and even on your smartphone. So, rather than sitting in class for two weekends, you can finish the course on your own schedule. All you need to do is log in, read the text and watch the videos and animations. Many students take the course on their way to school, during breaks and anywhere they have a few minutes to spare.
All you need to do is log in and answer verification questions that you provide us. This is a security feature required by the DMV for all online driver's education courses. Once you log in, you will be taken to where you left off last. When you finish the module, you answer a few practice questions. These practice questions are the same that will be asked on your final exam. They will prepare you to earn your driver's ed certificate that you will than take to the DMV when you apply for your driver's license.
Unlike the other online Las Vegas drivers ed courses, we provide our students all the tools they need to successfully pass their Nevada driving test. This includes bonus material (manuals, videos etc). So, we offer way more than just an online course. Also, you can take our entire course and final exam for free. You only pay once you are finished. Once payment is received, you will be taken to a link where you can instantly view and print your certificate. So, if you're looking for a Las Vegas drivers ed course that can be taken anywhere and at anytime, be sure to visit us at NVdriversEd.com.
https://nvdriversed.com/wp-content/uploads/2016/09/las-vegas-drivers-ed.jpg
334
500
NVDriversED
https://www.nvdriversed.com/wp-content/uploads/2017/02/nv-drivers-ed-logo-new.png
NVDriversED
2015-03-18 10:10:59
2020-06-15 10:30:09
Las Vegas Driver's Ed