The Nevada Driver's License
Part 1 – The Driver
By the end of this module, you should clearly understand why operating a motor vehicle is a very serious responsibility.  You will be able to explain what is expected from you as a driver, from obeying the law to being courteous and aware of your obligation to the safety of others.
Also in this section, you will learn what is required to receive a license, what levels of licenses are granted and what possession of a license means..
If you're a typical teenager, getting your driver license is an important milestone.  You may be focusing of all the freedom and independence that being able to drive will bring you. And that's great, it's a goal you certainly can achieve in time, but there's another side of it you need to think about right now, right at the beginning of this course.
And this is it:  Becoming a driver also brings with it very serious responsibilities—adult responsibilities. In fact, for most teens, having a driver license represents the most responsibility they've ever had in their life. That's because the risks involved in driving are serious. Because of this, driver education and behind-the-wheel driver testing are taken seriously as well.
In Nevada, driving is considered a privilege — Not a Right
Keep in mind that your driver's license can be revoked or suspended at any time if you fail to follow the rules and regulations that are required of ALL drivers—including you!  It happens every day: Nevada teens and adults alike lose their privilege to drive by driving recklessly or carelessly, by failing to follow the rules of the road,  and by driving without regard to the safety of others.What's the difference?  Unlike a right, a privilege can be given, and it can also be taken away.  So you can see why your driving privilege should never be taken for granted. Keep in mind that your ability to  keep your privilege to drive will always be based on the knowledge and skills you have demonstrated and the rules and regulations you have agreed to follow.  This is true not only while you are learning to drive, but after you are licensed, you must continue to prove your ability to drive safely and responsibly.
Levels of licenses, their rules and purposes
If you want to drive a motor vehicle or a motorcycle on the public roads of Nevada, you must hold either an instruction permit or a driver's license. And as we mentioned before, this is a privilege granted to you ONLY after you have shown your readiness for it – it is not a right that is guaranteed to you. The state controls the roads, and it needs to ensure that everyone who drives on them has demonstrated the knowledge and skills to do so. This is not just for your benefit–but for the benefit of all who travel the roadways of Nevada.
You may wonder why the State of Nevada is so adamant about drivers, especially new drivers, being able to demonstrate the knowledge, skill and maturity needed to drive before they are given a license. Consider this: approximately 90 percent of crashes involving teens happen in the first few months after they get their license. That's why your ability to drive is restricted during the time that you progress through the learning and newly licensed driver stages.
The Nevada Graduated Driver's License Program
Teenagers who have reached the age of 15 1/2 but are under the age of 18 must complete a graduated driver's license (GDL) program before they are eligible for a full Nevada driver's license. The GDL is designed to introduce driving privileges in phases to include a period of supervised driving before they are eligible for a full, unrestricted Nevada driver license.
Why is a GDL Program necessary?
Motor vehicle accidents are the leading cause of death for people age 16 and 17.
Teen drivers are twice as likely to be involved in a fatal traffic accident than adults.
16-year old drivers are approximately 3 times more likely to be involved in a traffic accident than 17-year old drivers and 5 times more likely to be in an accident than 18-year olds.
Research has shown that the above statistics are the result of immaturity and inexperience, and this is the reason why drivers under the age of 18 are required  to complete the graduated driver's license program.
In Nevada, the GDL program consists of the following:
Driver Education
Instruction Permit
Behind the Wheel Experience
Driver Education:
The State of Nevada requires teen drivers under the age of 18 to complete a 30-hour driver education course before they are eligible for a full license  (not required for instruction permit). Some professional driving schools also offer a 15-hour course that must be taken in conjunction with 5-hours of behind-the-wheel training with a professional driving instructor. There are several options for completing the educational requirements for driver's under the age of 18, as follows:
Attend a 30-hour classroom course, or:
Complete a 30-hour online course, or:
Complete 100 hours of driving experience.  This option applies only if a classroom course is not offered within a 30-mile radius of your residence and you do not wish to complete a course online.
Things to know about the Nevada Driver Education requirement:
The driver education portion of the GDL program can be taken as early as age 15.
The driver education course or experience is not a requirement to obtain a Nevada instruction permit but it is a requirement to obtain a Nevada driver license.
Professional driving schools that are approved by the Nevada DMV will issue you a Certificate of Completion that mist be presented to the DMV when applying for your full driver's license.
Instruction Permit:
At age 15 ½, Nevada teens are eligible to obtain an Instruction Permit (sometimes called a Learner's Permit). This permit allows teen drivers to drive on Nevada public roadways as long as they are being supervised by an adult no younger than age 21 who possesses at least one year of licensed driving experience. During the supervised driving period, this adult must be seated in the front of the vehicle and next to the teen driver at all times.
You may apply for a Nevada Instruction Permit at any full-service Nevada DMV location. A Nevada Instruction Permit will only be granted to Nevada residents. Therefore, you must present proof of your identity when you apply. This is typically a certified, U.S.-issued Birth Certificate (DMV does not accept hospital-issued birth certificates) or a U.S. Passport and your Social Security Card (if one has been issued to you).
The Nevada DMV accepts the following to prove identity:
If You Were Born in the U.S.
State-issued birth certificate (original or certified copy)
Valid, unexpired U. S. passport or passport card
Nevada Department of Corrections Identification Card
If You Were Born Outside the U.S.
Certificate of Naturalization
Certificate of Citizenship
Unexpired Permanent Resident Card
Unexpired Temporary Resident Card
Consular Report of Birth Abroad
Valid, unexpired U.S. Passport or Passport Card
Resident Alien Card or I-551 Receipt
Valid, unexpired Foreign Passport stamped "Processed for I-551"
Arrival/Departure Record (I-94) with Visa or Passport
Permit to Reenter the U.S.
Refugee Travel Documents
Unexpired Employment Authorization document
Proof of Social Security
Social Security Card
W-2
IRS Form 1099
IRS Form 1099A
Paystub with Social Security number listed
What is Not Acceptable:
The DMV only accepts valid original documents or certified copies that were issued in the United States (except for foreign passports). The DMV does not accept the following as proof of identity:
Hospital-issued birth certificates
Driver's licenses or identification cards from other U.S. states, U.S. Territories or foreign countries
Foreign birth certificates
Border crossing cards
Consular identification cards
If you cannot meet these requirements, you may qualify for a Driver Authorization Card (DAC). Visit www.DMVNV.com to review the DAC requirements.
Your parent or guardian must accompany you when you apply for your instruction permit, as they are required to sign forms that indicate they are giving you permission to drive. These forms include:
Driver's License or Identification Card Application (DMV 002)
Minor Affidavit and Information Sheet (DLD-38)
These forms can be found on the DMV website or in the Resources section at the end of this course.
School Attendance
Senate Bill 269 (which became effective January 1, 2015) mandates that every driver under the age of 18 who applies for a Nevada Instruction Permit or DAC must provide the Neada DMV with proof that they meet the minimum school attendance requirements set forth by law.
If you have previously been declared a habitual truant (pursuant to NRS 392.144) and had a prior license suspension, you will need to provide proof to the DMV that you are now in compliance and meet the attendance requirments. This will require you to present a DMV approved form signed by an authorized school official with a certificate of attendance or graduation credentials (GED or High School Diploma).
Vision Test
In addition to establishing your identity and submitting required forms, before you can obtain a Nevada Instruction Permit, you must pass a knowledge test (sometimes referred to as the "written test") as well as a vision test.
The minimum level of acceptable vision is 20/40 in one eye.  If a driver must wear glasses or contact lenses to meet this standard, Restriction A will be placed on the license or permit. If you wear contact lenses or glasses, they should be taken with you for the vision test. If you do not pass the vision test (either corrected or uncorrected), you will not be granted an Instruction Permit.
Knowledge (Written) Test
The knowledge test consists of 50 multiple-choice questions based on the Nevada Drivers Handbook. The minimum passing score is 80%, which means you must answer at least 40 of those questions correctly. If you miss more than 10 questions on the test, you will have to retake it at a later date. There will be an additional fee each time you re-take the knowledge test.
Unfortunately, many Nevada teens fail the written/knowledge test on their first try. Because of this, we recommend putting a great deal of effort into this driver education course and studying the Nevada Drivers Handbook extensively before taking the knowledge portion of the test. This will save you time, frustration and money.
There is a $25 fee required at the time you take your knowledge/written test and $10 more for each retake. When you pass your test, you will also be required to pay a $22.25 licensing fee.
A teen driver must always carry their valid instruction permit when they drive. Your instruction permit identifies your eligibility to drive and it delineates the permissions and restrictions you have for driving a motor vehicle.
Behind The Wheel Experience
Once you have obtained a Nevada Instruction Permit, you are legally allowed to drive a motor vehicle on Nevada public roadways as long as you are with an adult seated next to you who is at least 21 years of age, a currently licensed driver and who possesses at least one year experience as a licensed driver.
At this time, teen drivers are required to complete 50 hours of supervised, behind-the-wheel experience (if they are under age 18). 10 hours of this experience must be completed in darkness. The darkness requirement does not apply to motorcycle licenses. Motorcycle experience should be completed in daylight only.
For Nevada DMV purposes, night-time driving experience is counted between 1/2 hour after sunset to 1/2 hour before sunset. In other words, if sunset is at 6:30 pm, your night time driving experience would not start counting until 7:00 pm.
If driver education is not offered within a 30-mile radius of your residential address and you do not wish to complete an online course, you must complete 100 hours of supervised driving experience, 10 hours of which must be in darkness.
You must keep a written log of the dates and times of this experience on the form provided by DMV. Your parent or guardian must sign this form and submit it when you apply for your full license. Fill in the form after each driving session and have it fully completed before your on-the-road skills test. Without proof of this driving experience, you will be unable to obtain your full Nevada license.
Expiration, Renewal and Cancellation
Nevada Instruction Permits are valid for one year. If your permit has expired, you must apply for renewal in person at a DMV office and a parent/guardian must sign another Financial Responsibility Statement. If the permit is expired more than 30 days, you will have to take the written/knowledge test again. Another testing fee will apply in addition to the renewal fee. If the permit is expired more than one year, you will have to show proof of your identity again.
The parent/guardian who signed the Financial Responsibility Statement when the minor applied for the permit can request its cancellation at any time by completing the Minor Affidavit (DLD-38) form and presenting it in person at a DMV office. If this occurs, Nevada law requires the permit itself to be surrendered to the DMV.
Additionally, the DMV can require testing, cancel a permit or deny the renewal if the applicant has been convicted of traffic violations or other offenses listed under License Suspensions and Revocations.
Full Minor Driver's License:
In order to obtain a full minor license, you must have met the following requirements:
completed a 30-hour driver education course
held a valid instruction permit for at least six months prior to applying
have no at-fault accidents in the six months prior to applying
have no moving violation convictions in the six months prior to applying
have no alcohol or drug convictions of any kind in the six months prior to applying
successfully passed a driving skills test administered by the DMV
Watch the Nevada DMV Teen Drivers Video – Part 1
Driving Skills Test
Once you have met the Nevada driver education requirement (which you are doing now) and completed 50-hours of supervised, behind-the-wheel driving experience, in addition to meeting the requirements above, you are now eligible to apply for a Nevada driver's license (minor).
As mentioned earlier, you may apply for your full license at any full service Nevada DMV; however, you must make a reservation in advance to take your driving skills test. Reservations may be made online or by phone. Understand that it may take 2-3 weeks for you to find availability for the skills test. You can find more details about online scheduling through the DMV's website (dmvnv.com).
When you arrive for your driving skills test, you must bring the following with you:
Parent/Guardian (must sign a Financial Responsibility Statement and Affidavit for Minor to be Licensed)
Instruction Permit
Proof of Identity
Drivers Education Certificate of Completion or high school report card/school transcript
Completed Beginning Driver Experience Log (Form DLD-130)
Vehicle with Registration and Insurance (for taking the skills test)
You can take the skills test in any passenger car or truck which is properly registered and insured, except a rental car. Before hitting the road for your driving skills test, the DMV examiner will perform a vehicle safety inspection of the vehicle and check the Certificate of Registration and Evidence of Insurance card.
The vehicle should be mechanically sound and safe to drive, so the examiner will check to make sure your turn signals, headlights, tail lights, brake lights, speedometer and horn are operational. He/she will also check tire wear as well as visibility of the windows and windshields.
The vehicle used for the skills test should have operational seatbelts for both you and the examiner and there should be a clean passenger seat available for the examiner to sit. If the examiner determines that your vehicle is unsafe, you will not be allowed to take the skills test in it.
Also, you should know that no passengers or pets are not allowed to be in the car with your during the driving test unless a special need exits. Any special needs must be discussed with the examiner prior to the skills test.
Once the test begins, the examiner will give you instructions on where to drive. Understand that the examiner is not there to provide guidance or to help you pass the test. Likewise, he/she certainly isn't there to see you fail! They have an important job to do and that is to determine if you are a safe and knowledgeable driver. They will grade you on how well you follow traffic laws and handle whatever situation you encounter, and on your ability to safely and appropriately control your vehicle.
Serious traffic violations such as speeding, failure to yield, causing an accident, use of cell phone, etc. will result in automatic failure. Examiners use a point system to grade other aspects of performance. If you fail the test, the examiner will explain why and instruct you on how and when to re-take the driving skills test.
Many people take their driving test when they have not sufficiently prepared, or have not practiced enough, or have not practiced the right way. Others get very nervous because they don't know what to expect. Remember, the DMV examiner will ride with you only to make sure that you can drive safely and obey traffic laws.
Many new drivers have simply picked up bad habits over the years by observing drivers that don't follow the literal meanings of traffic signs and laws. If you are one of these new drivers, displaying any one of these bad habits will easily result in you failing your driving skills test. For example, the flow of traffic you are used to riding in may have many vehicles traveling 5-10 mph over the speed limit. This does not make it legally OK. You may ride with drivers that do not make complete stops at every stop sign, and this also does not make it OK.
Your driving test will last about 20 minutes. The test consists of basic maneuvers you will encounter while driving such as: left and right turns, stops at controlled and uncontrolled intersections, straight line backing, parallel parking, lane changes and driving in regular street traffic.
Here are some of the things to be mindful of during your driving skills test:
Steer smoothly at all times.
Accelerate smoothly. Don't race the engine or make it stall.
Stop the vehicle gently. Start braking well ahead of where you must stop, to avoid sudden "jerks." Know where to stop. Be aware of crosswalks, stop lines and stop signs. If your view is blocked at a crosswalk, move forward carefully after making a full and complete stop and then look both ways before entering the intersection.
Always obey the posted speed limits. If needed, reduce your speed to adjust for existing weather, road, and other traffic conditions. Remember to turn on your lights if you need to use your windshield wipers in poor weather conditions.
Follow at a safe distance. Use the three-second rule. Increase your following distance in bad weather or poor visibility.
Know what the traffic signals mean and obey them at all times.
Always use the proper lane. Turn from the correct lane into the correct lane.
Signal for all lane changes and turns. Check your mirrors and your blind spots!
Always look for potential hazards (scan). Check your mirrors frequently. Always look over the proper shoulder before making lane changes or pulling away from the curb.
Drive defensively. Anticipate another driver's errors.
Once you have passed the Driving Skills test, you return to the DMV to have your new license processed.
The Nevada minor's license features distinctive designs for immediate identification that the holder is, in fact, a minor. Specifically, the minor's license is printed in vertical format, whereas a non-minor license is printed in horizontal format. The date the bearer will turn 18 is printed in red type.
Watch the Nevada DMV Teen Driving Video –  Part 2
Minor's License Restrictions
Passenger Restrictions
Teen drivers under age 18 may not transport any passenger under the age of 18, except for immediate family members, for the first six months after the minor's license was issued. Penalties for violating this provision can include extending the restriction for six months or more and fines for repeated violations.
Curfew
Drivers under 18 may not drive between the hours of 10 p.m. and 5 a.m. unless they are traveling to or from a scheduled event such as school events or work. A law enforcement officer may ask for satisfactory evidence of the event.
In addition to statewide curfews, there are many local curfews that are also in effect and you, as a teen driver, need to know and adhere to these laws to prevent a loss of your driving privileges.
Here are a few of these local curfews:
Las Vegas Strip and Downtown area:
Teens are not allowed in these areas past 9 p.m., unless accompanied by an adult.
Elsewhere in Las Vegas:
10 p.m to 5 a.m. on Sunday – Thursday

Midnight to 5 a.m. on Friday and Saturday
Reno Downtown Gaming District:
9 p.m., unless accompanied by an adult.
Elsewhere in Reno:
Midnight to 5 a.m.
Note:  Curfews in other Nevada cities vary. Call the local police department for more details.
Legal operation of a motor vehicle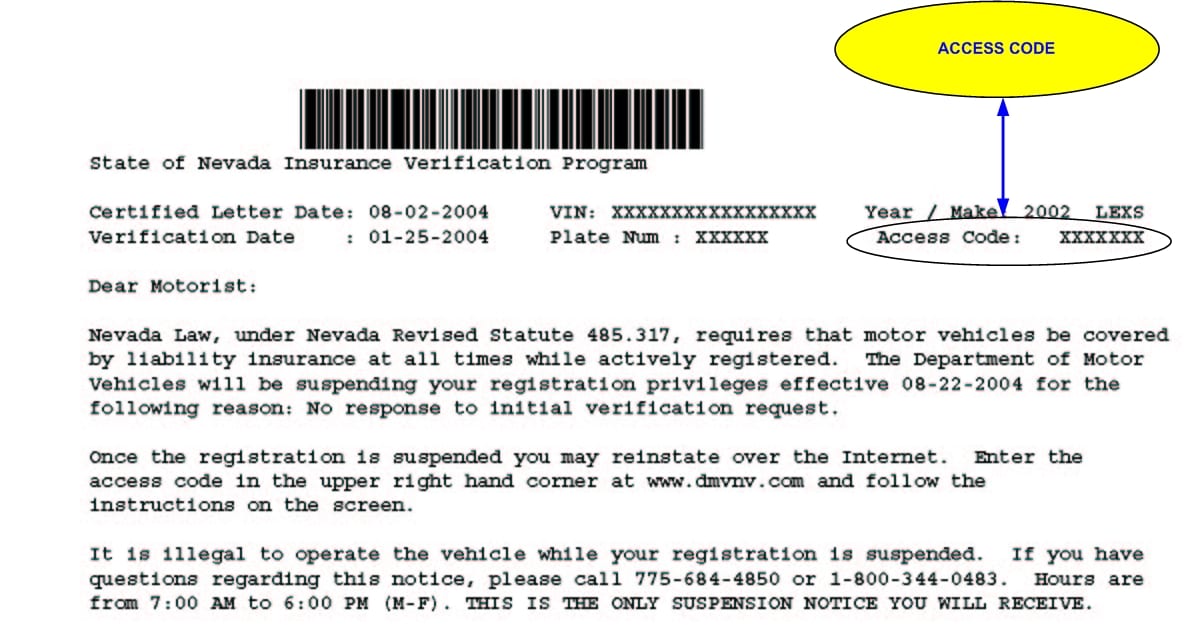 There are several things that you must have in addition to your license to be able to legally drive a car.
Any vehicle being driven on a Nevada roadway must be legally registered and insured, and written proof that both are currently valid must be carried inside the vehicle. Additionally, valid license plates with a current DMV-issued registration sticker must be affixed to the vehicle that corresponds to the registration card carried inside the vehicle.
Nevada requires a set minimum liability insurance coverage that every vehicle must meet. Liability coverage provides financial protection to other drivers or passengers for injuries or damaged caused by your driving and is required for all vehicles driving on public roadways in the State of Nevada. You will learn more about insurance and registration in a later module of this course.
Driver Responsibility
This is so important that it's worth repeating – again and again. As a driver, you are responsible for following all laws and rules of the road.  The DMV will keep a record of your driving behavior, and If you fail to obey the law—for example, even if you only slow down for a stop sign instead of making a full and complete stop, you will likely be issued a citation (called "a ticket" in everyday language).  That violation will go on your driving record.
But if you're involved in an accident or a serious moving violation, you'll not only get a citation, but civil or even criminal charges can be filed against you! It happens too often to teen drivers, with devastating consequences that can follow them for years after the violation or accident.
Some of those consequences can hit you in the wallet: Not only will accidents and tickets significantly increase your cost for vehicle insurance, you can be held financially responsible for your actions while driving. That means you can be required to pay compensation for damages to other people when you are involved in an accident – and you don't get out of it just because you're young. The legal reason for this is that the driver who is at fault in an accident is liable for the consequences (such as injury) to other people. So take a moment now to think about how you might find the money to pay for that kind of charge against you, which can run thousands of dollars. You will get no special treatment simply because of your age!
Accidents aren't the only thing that can hurt your new driving record: If you are issued a ticket or are in an accident while you're driving on your learner's permit, you may have to wait longer to get your regular, restricted license.
Remember: you must have a safe driving record of at least six-months to apply for your regular restricted license!
Parent Responsibility
Parents or guardians who knowingly allow an underage driver to drive without a license or drive in violation of any of the minor driver laws are held responsible for fines and restitution following a citation or accident. This means that your parents can be held responsible for damages caused by you.   From the legal standpoint, there are two reasons that both the teens and their parents can be held liable for damages:
Parents are responsible for correcting teen's careless driving behaviors
Parents can be found negligent for permitting behavior that caused the accident
This legal responsibility means that your parents are required to restrict your driving if they know you have a habit of speeding, alcohol or drug use, running red lights, using cell phones, or driving recklessly.   The parent or guardian who signs the Financial Responsibility Statement for you can request cancellation of your license at any time until you turn 18 by completing the Minor Affidavit (DLD-38) form and presenting it at a DMV office.
If this happens, the law requires that you surrender your license to the DMV.
Any adult who knowingly serves, sells or furnishes alcohol to a minor, or allows a minor to consume alcohol on his property, can be held liable in a civil action for any damages caused as a result of the alcohol consumption. This also applies to the use of controlled substances by persons of any age.
Revocation/Suspension of Your Instruction Permit or Driver's License
The DMV, courts and law enforcement can suspend or revoke driving privileges for those who break laws, act foolishly or endanger the general welfare of the public. Failing to abide by the provisions set forth on your permit can result in loss of your ability to drive a vehicle until you reach age 18.
If your Nevada driver's license gets suspended or revoked, it helps to know the difference between the two terms:
License Suspension―The temporary withdrawal of your Nevada driving privileges.
License Revocation―The termination of your Nevada driving privileges. Reinstatement often requires retaking the knowledge and road tests.
Not only are traffic accidents and traffic violations tracked by the DMV and become part of your driving record (as explained above) but also, if your license is suspended or revoked in another state, the DMV will not will not allow you a Nevada license until the state that revoked/suspended your license reinstates it.
The Nevada DMV uses a demerit point system for the tracking. Here's how it works:  When the DMV receives a notice of conviction from a court, the conviction is placed on your driving record together with a certain number of demerit points, which is based on the specific offense you were convicted of. The more serious the violation, the higher the point total will be.
When you accumulate 3 or more demerit points, you will receive notice informing you about it from the DMV. If you accumulate 3 to 11 demerit points in any 12-month period, you are eligible to have 3-points removed from your record by attending a DMV-approved traffic safety course, as long as the course was not ordered by the court as part of a plea-bargain agreement.
If you receive 12 or more demerit points in any 12-month period, the DMV will automatically suspend your license for a period of 6-months. If this occurs, the DMV will send you a certified letter prior to suspending your license with notification of your right to an Administrative Hearing through the DMV.
The following is a list of some common violations and their demerit point value:
Reckless Driving: 8 points
Careless Driving: 6 points
Failure to give information or render aid at the scene of an accident (property damage): 6 points
Speeding 16 mph or more over the posted speed limit in a school zone: 6 points
Passing a stopped school bus with its red signal lights flashing: 4 points
Following too closely: 4 points
Disobeying a traffic signal or stop sign: 4 points
Disobeying a police officer, flagger or school crossing guard: 4 points
Failure to yield to a pedestrian: 4 points
Driving too slowly, impeding traffic: 2 points
Failure to dim headlights: 2 points
Speeding:
41 mph or more over posted limit: 5 points
31 to 40 mph over posted limit: 4 points
21 to 30 mph over posted limit: 3 points
11 to 20 mph over posted limit: 2 points
1 to 10 mph over posted limit: 1 point
Keep in mind that the demerit points put on your driving record are also reported to your automobile insurance carrier. These points can have costly effects on the price you or your parents pay for automobile insurance. As a general rule, it is more costly to insure teen drivers than it is adult drivers due to the risks and statistics of teen driving accidents.
When you couple the inherent expense of insuring a teen driver with a proven record of traffic violations, insurance costs will typically increase dramatically. The insurance company also has the ability to deny coverage for you—which will prevent you from operating a motor vehicle at all.
Even traffic violations that occur in other states are added to your Nevada driving record. Remember, to qualify for a regular driver license, a learner driver must have a clean driving record for six months.
There are other traffic related offenses that can lead to the revocation or suspension of your license— without reaching 12 demerit points in a 12-month period:
Driving Under the Influence (DUI): If a blood, breath or urine test indicates that you were driving a motor vehicle under the influence of drugs or alcohol, or if you are found guilty of DUI by a court of law or if you refuse to submit to an evidentiary test, the DMV will revoke your license for a specific period of time.
Collision with a bicyclist or pedestrian that is caused by you
Failure to Appear: if you receive a traffic ticket and do not pay the fine or appear in court as required
Failure to maintain vehicle liability insurance
Failure to pay child support
Participating in, or organizing a street race contest
Common Reasons Teen Drivers Lose Their License to Drive
In addition to accumulated demerit points for traffic violations, the following are common reasons why teen instruction permits and driver licenses are revoked:
Conviction of a crime involving alcohol or a controlled substance
Found to be responsible for a motor vehicle accident during the 6 months before applying for a driver license
Found to be responsible for placing graffiti or defacing property
Transporting any passengers under the age of 18, during the first six months after obtaining a driver license unless that passenger is an immediate family member
Operating a motor vehicle between the hours of 10 p.m. and 5 a.m. unless driving to or from a scheduled event.
If a blood, breath, or urine test indicates 0.02 percent by weight of alcohol in blood.
Any court finding of driving under the influence of alcohol or a controlled substance
Involvement in any criminal activity involving alcohol or a controlled substance
Using, possessing, selling or distributing a controlled substance; or
Purchasing, consuming or possessing an alcoholic beverage.
For handling or possessing a firearm or having a firearm under their control in violation of NRS 202.300
Found to be in need of supervision because of habitual truancy (skipping school)
Reinstatement of Your Driver License
Keep in mind that license reinstatement following a suspension or revocation is not guaranteed. It's the decision of the Nevada Department of Motor Vehicles (DMV) whether or not you have fulfilled the requirements set forth by the court or DMV to be eligible for reinstatement. So, since it is not automatic and DMV will not provide you notice, it is up to you to ensure you 've met the reinstatement requirements.
Summary
As a new driver, it is important to remember that a great deal of responsibility is being entrusted to you. Simply reaching the age of 16 years old does not guarantee your right to drive. Again, driving is a privilege granted to you by the State of Nevada only after you have proven yourself to be knowledgeable about the rules and regulations that go along with driving and have shown the proper skills indicating your ability to properly and safely operate a motor vehicle on the Nevada roadways.
Because a driver's license is not a right–your ability to drive can be revoked, cancelled or suspended based on bad decisions and unsafe behavior.